Category:
68-82 Articles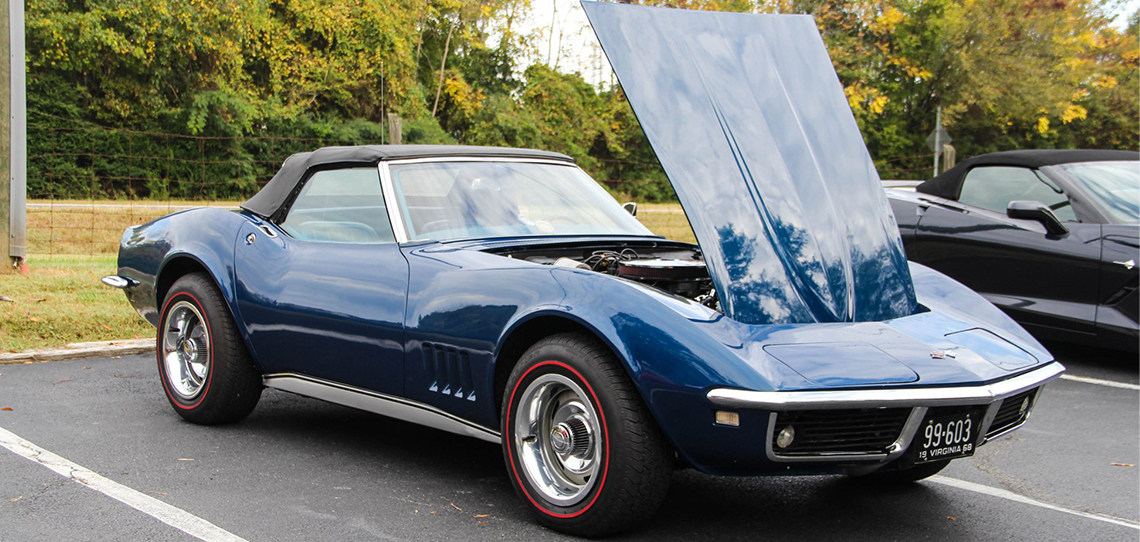 C3 Corvette (1968-1982) – Work on the third generation Corvette began while the second generation mid-year models were still rolling out of the factory. Engines and chassis components were mostly carried over from the previous generation, but the body and interior were extensively redesigned.
Known as the "Shark" Generation, the C3 Corvette was first born in the imagination of  Bill Mitchell after a 1961 deep sea fishing trip. Mitchell caught a Shortfin Mako Shark and was drawn to its silver-blue scales, pointed snout, and sleek lines. Chevrolet designed two Mako Shark concept cars in the 1960's that gained instant fame with Corvette enthusiasts because of their aesthetic beauty, but were never released to the public. However, the Mako Shark II Corvette greatly influenced the launch – and the unmistakable lines – of the third generation Corvette.
The 1968 coupe featured "T-top" removable roof panels (an industry first) and a removable rear window. Both features were firsts for the Corvette. Automatic transmissions changed from two to three-speed. Pop-up headlights, operated by a vacuum, also made their debut. 28,566 Corvettes were sold in 1968 – a new record. Base price was $4,320.
In 1969, the 250,000th Corvette rolled off the assembly line in St. Louis. Also in 1969, the ZR-1 optional factory-installed racing package is offered on a Corvette for the first time.
Alarm systems became standard in 1972, which was also the last year to feature both front and rear chrome bumpers and a removable rear window in coupes.
In 1975, Zora Arkus-Duntov retired, with his reputation as "Father of the Corvette" firmly in place. Bill Mitchell retired in 1977.
Chevrolet celebrated the Corvette's 25th birthday in 1978 by introducing the most extensively redesigned model since the 1968. Featuring the "fastback" body style with a large rear window, the traditional crossed-flag emblem is replaced with a special 25th anniversary emblem.
In 1981, Corvette production moved from St. Louis to Bowling Green, Kentucky, where it remains.
The 1982 model ended the third generation. A special Collector Edition was available with a hatchback design and was the first Corvette with a base price to exceed $20,000.
Corvette's third generation would span 15 years, the longest run of a generation to-date.