Category:
14-19 C7 Articles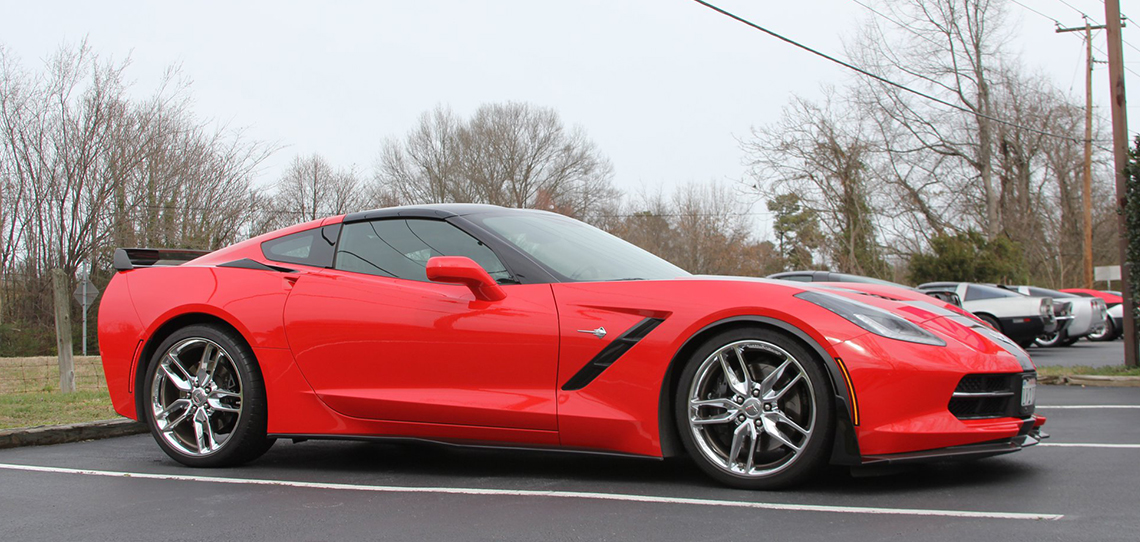 C7 Corvette (2014-2019) – Development of the seventh-generation Corvette began about a year after the introduction of the C6 model in 2005. It was officially introduced at an invitation-only "reveal" in Detroit in January 2013. The public debut was one day later. The Stingray moniker returned, this time as one word.
The 2014 C7 Corvette Stingray was truly a departure from its predecessor. In fact, production of the 2013 C6 ended in February of that year to permit time for a retooling of the Bowling Green Assembly Plant ahead of C7 production.
The 2014 Stingray only shared two parts with the previous-generation Corvette – the removable roof release lever and a filter in the air filtration system. The rest was completely new – including the frame structure, chassis, powertrain, and an all-new interior and exterior design. A substantially redesigned aluminum frame became standard with all coupe and convertible models, saving nearly 100 pounds as compared to the C6 steel frame. The 2014 Stingray Coupe retailed for $51,995.
In 2015, a distinct Z06 model returned. Unlike the C5 and C6 versions, the C7 Z06 coupe roof panel was removable and a convertible was available, thanks to the C7's stronger, aluminum frame design. Also in 2015, a new GM-designed and built paddle-shift automatic transmission featuring eight speeds was available across all models, including the Z06.
Apple Car Play with phone emulation to radio screen became standard in 2016. Android options were added later as a free dealer upgrade. Flat bottom steering wheel was also standard in all models.
Grand Sport models returned in 2017, including a Z25 Grand Sport Collector Edition. Watkins Glen Gray, Black Rose and Admiral Blue were all new colors for 2017.
In 2018, Chevrolet commemorated the 65th anniversary of the Corvette with a new Corvette Carbon 65 Edition offered on 2018 Grand Sport 3LT and Z06 3LZ models, but limited to only 650 numbered vehicles globally.
"Stingray is one of the hallowed names in automotive history," said Ed Welburn, GM vice president of global design. "We knew we couldn't use the Stingray name unless the new car truly lived up to the legacy. The result is a new Corvette Stingray that breaks from tradition, while remaining instantly recognizable as a Corvette the world over."