Have you resorted to toggle bolts and a hammer to repair those stripped rocker panel mounting screws? Are you tired of empty holes in your rocker panel moulding? Well, tool man, put those carpenter tools away. The Fix Is In. Zip Corvette Parts , 8067 Fast Lane, Mechanicsville, VA 23111 (800) 962-9632, has come up with a slick repair. The Kit will repair those stripped out screws in a flash and you won't spend all day doing it. Our Project 77 had both stripped and broken mounting screws so it was a prime candidate to try this new Kit out on. Everything worked perfectly. It took less than 2 hours and we only needed common hand tools. The hardest thing was removing the old stripped screws and retainers. Now let's get started and put the fix in.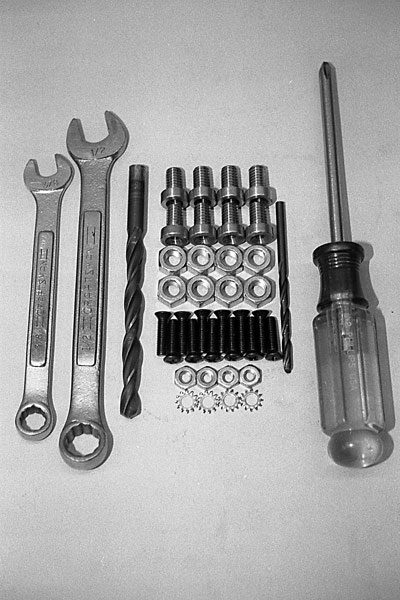 01: Here is the Rocker Panel Mounting Screw Kit we received from Zip along with the tools we will need: a 5/32" and 5/16" drill bit, 3/8" and 1/2" wrench and #2 Phillips screwdriver. You will also need a 1/4" variable speed drill and a flat file.
02: Once the rocker panel is removed, you can then remove the retainer and any broken screws. If you have a broken screw, start by using a file to make the broken screw end flat. Now use a 5/32" drill bit and drill all the way through the screw and retainer.
03: After you have drilled through and removed the old screw and retainer, use a 5/16" drill bit and drill out the hole in the rocker panel area. Pre-fit the new brass retainer into the hole. Make sure it goes in easily.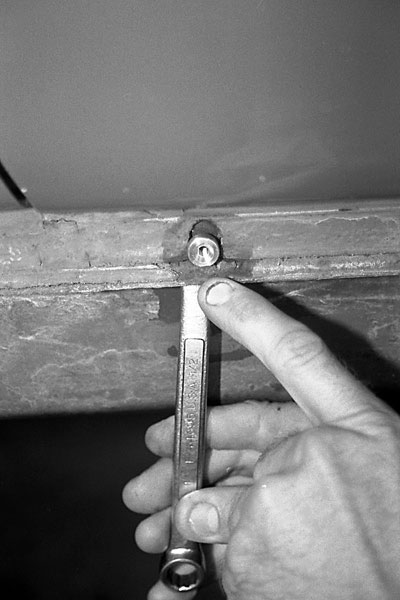 04: Place the new retainer into place with the flat side facing down. Put the nut on the back but leave it loose. You want the retainer to be able to move. Install all the eight retainers in this way.
05: Line up the rocker panel with the new retainers and install the rocker panel screws. Again just snug them into place. Leaving the retainers loose makes the alignment of the rocker panel much easier. Align and install the end screws. Use a flat washer, lock washer and nut on the back of each end screw. Again, only snug these into place.
06: Now use the 1/2" wrench to tighten the four retainers against the rocker panel on each side. After this is done, tighten all of the retaining screws and end screws. It is that simple. The rocker panel can now be easily removed and there are no more empty holes or stripped screws. THE FIX IS IN!
1970-1977 Rocker Panel Mount Repair: Corvette Rocker Panel Mount Repair
Source: Zip Corvette Parts
8067 Fast Lane | Mechanicsville, VA 23111 | (800) 962-9632
Corvette Parts List Related to Article: